MARCH 2014 STREET ART
What we posted in our Street Art News section during the month of March. This is our way of listing all of the stories we have featured that were not posts.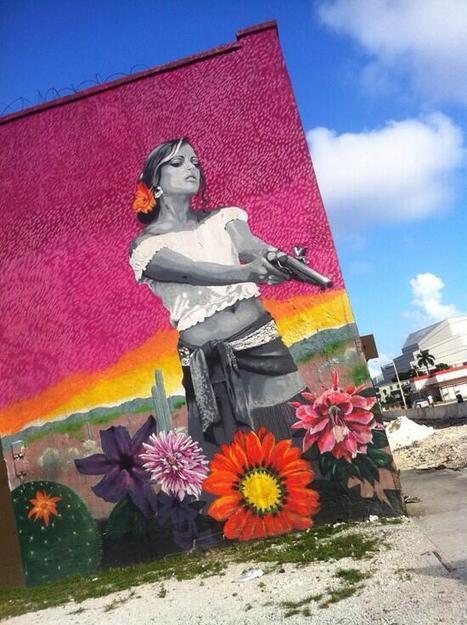 Fabulous Street Art by street artist #Spagnola. Mural located downtown #Miami = #art #streetart #mural http://t.co/9AJwM3IwP1
Spanish artist #Aryz massive & wonderful street art piece in #Oslo
#art #streetart http://t.co/eTMZPr5MPV
Shok-1 is painting x-ray images of bones both real and imagined all over the world
Three decades since starting as an aerosol writer, Shok-1 may be more commonly referred to as a street artist today, even though graffiti is still in his bones.
Fintan is getting a lot of notice these last several days. Guell his publicist is trying to get him some buzz. This is a great article by the way. Short on words and lots of amazing pictures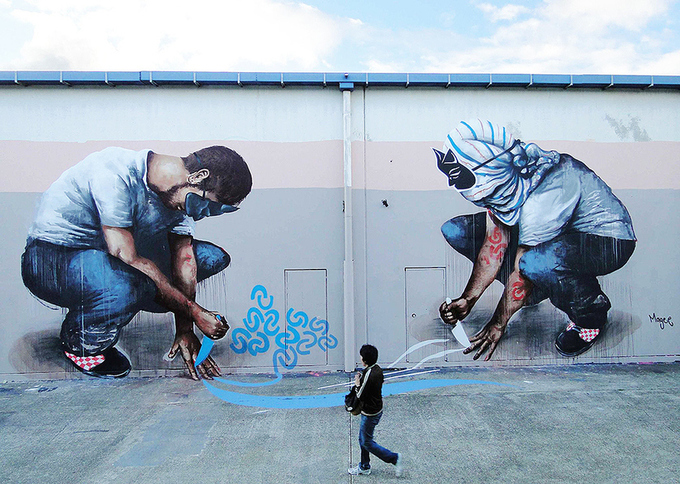 Sydney-based artist Fintan Magee is redefining street art.
You may think that you have seen all the examples of  art possible by now and have been wowed sufficiently in this life.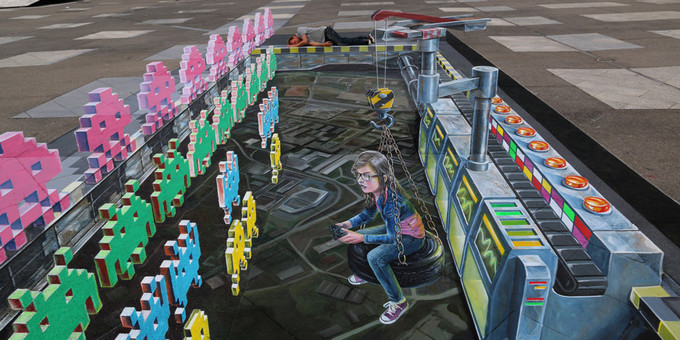 If you love Space Invaders — that gem of an arcade game created by Tomohiro Nishikado — then prepare to be wowed …. even more.
Fisherman house Pereira dinho bento (on the island of Barra in Itaporanga – Bahia) – ©: Roberto Cica JR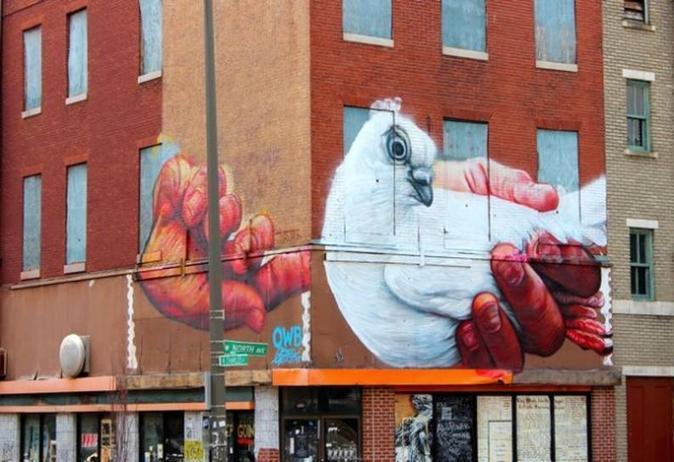 See it on Scoop.it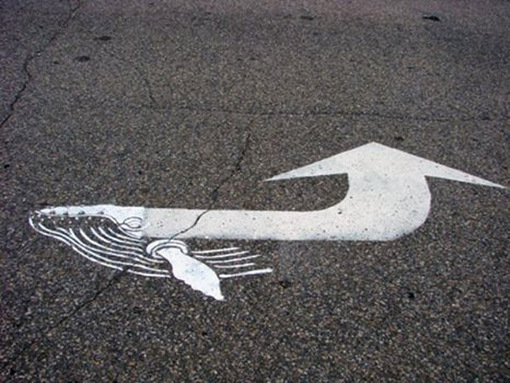 Public art takes a left turn with the inventive markings of public artist Roadsworth. Since 2001, Roadsworth – aka Peter Gibson – has been painting the pav
MARCH 2014 street art Weekend report. Another example of an abandoned building being used as a canvas. I wonder if you could cut the pictures out of the wall, sell them at auction and raise enough money to do something better with the place? We will keep you updated.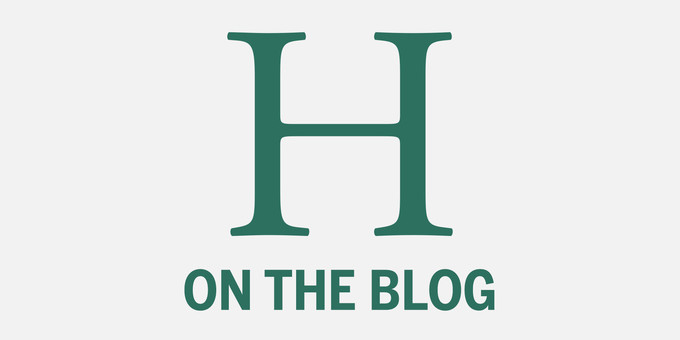 Somewhere deep in the U.K. is an abandoned hotel. While busy wasting away in the foggy land, a collective group of street artists decided it should serve as their next temporary canvas….
Here is the story of an average guy who was a hotel services worker. then he had this idea.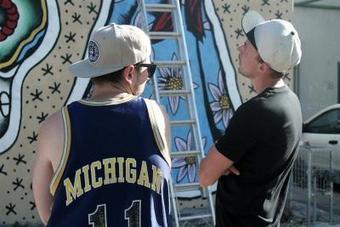 A former Queenstown resident is starting to get noticed in Melbourne as he collaborates with Australian street artists in what is believed to be a world-first project.
And speaking of street art used in urban planning, here we go again.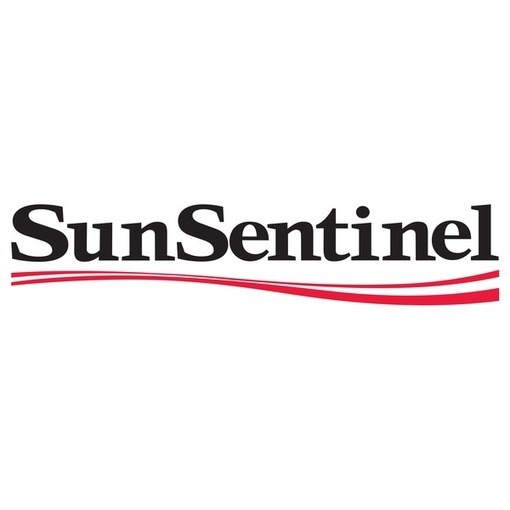 The city is looking for artists who can create street art that would fit in well with its downtown character.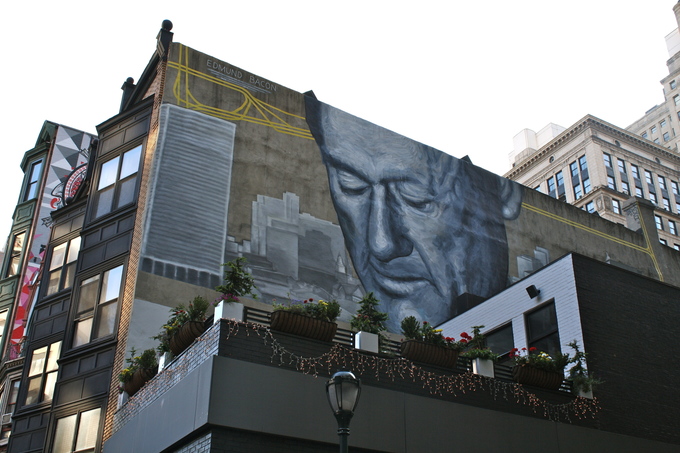 Seeing as how Philadelphia is the birthplace of modern graffiti, it seems like a good place for the TED people to intersect. There is a record of street art in Philadelphia  dating back to the late 1960s.
:So excited to finally announce my TED Walk exploring Philly street art in association with TEDxPhiladelphia 2014″… Read more
ESU – Soho, NYC – More photos: ESU, Street Art
Who the hell allowed this to happen? Graffiti art? At the Humboldt County Airport? Well, yes and no. Bands of masked graffiti writers did not…
more MARCH 2014 street art
Does Ted Cruz's support signal the death of street art
The Fight for Liberty Never Ends Cruz inscribed –
Street Artist PJ Media, Sabo getting some attention –
Will Cruz defend the rights of all street artists arrested for freedom of expression?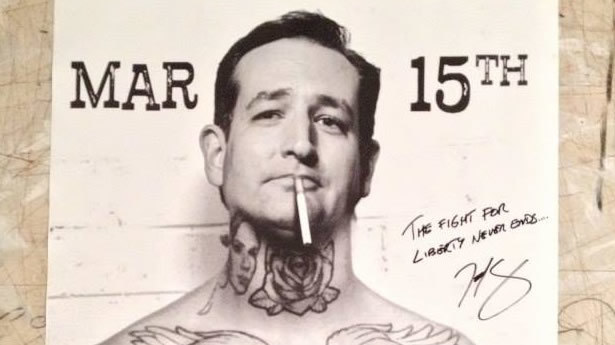 When parents starting playing rock and roll, everyone proclaimed Rock Is Dead. Now that Ted Cruz has almost as much as said street art is the people rising up for freedom, can the end be far away for street art and graffiti? What will happen when the Senator is cast in degrading poses? Will he still rally to the defense of street art? If he did it would be something new.
Sen. Ted Cruz, R-Texas, reacted to a street art poster spotted in Los Angeles featuring him shirtless, smoking a cigarette and covered in tattoos.
Well if I were to sit down and make a list of things I thought I would never see, then that poster would be real up near the top of the list, Cruz said, in an interview with conservative radio host Dana Loesch who asked him to react to the posters.
Cruz explained that the poster was a manifestation of something incredible that was going on in the country with the rise of the grassroots.
The poster that was designed by a conservative Los Angeles street artist, Cruz added, indicating that they had no previous knowledge of it. picture from;
This top story is on Mini /street art. This picture is by an artist that makes mini figures in various Yoga positions. Josef Foos places these lovingly throughout Berlin. See who else is creating mini art and photographing it. See the cities in mini
This is not street art. It is more photo art, photographed on a street. Nonetheless it continues to slowly grow in interest as an art form form.  And it continues to be called street art although most of it is probably gone shortly after the picture is taken.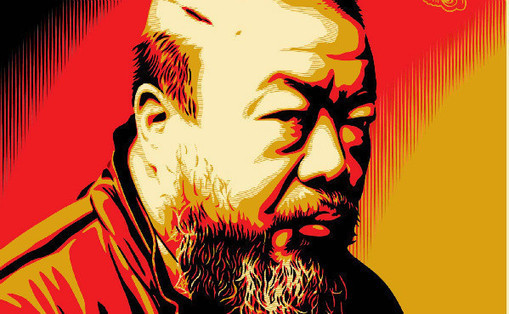 Shepard Fairey honors a world hero with a telling portrait. It tells of the gash he recieved at the hands of the Chinese Police. Those who attempt freedom of expression under Chinese government one party rule, are labeled activists. They are considered dangerous persons and potentially lawless. See it on Scoop.it
Go to Scoopi.t, click the headline and check out the pics. It is not all on the street. Most are interiors. But the outdoor public ones really do look cool.  
See it on Scoop.it
,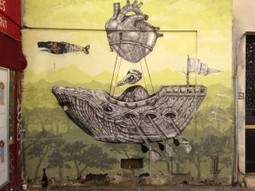 Bonjour, One of the most exciting things we have done so far in Paris is meeting up with a street artist at Cafe Place Verte in the 11th arrondissement.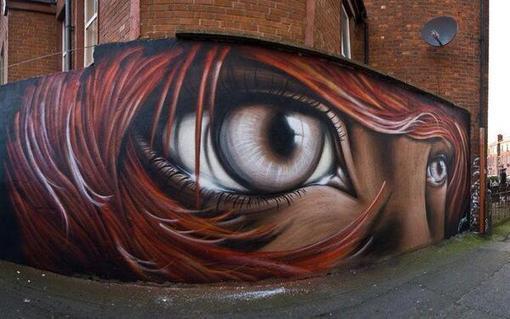 "Waiting For Your Voice" Street art in Dublin, #Ireland by #Eoin http://t.co/s8Rd0FQcan
Unemployed. unemployed. For more pics, please visit my flickr page. Posted by Minimal Street Art at 13:04 · Email ThisBlogThis!Share to TwitterShare to FacebookShare to Pinterest. Labels: 2014, espoo, finland, soukka, unemployed, yo-yo …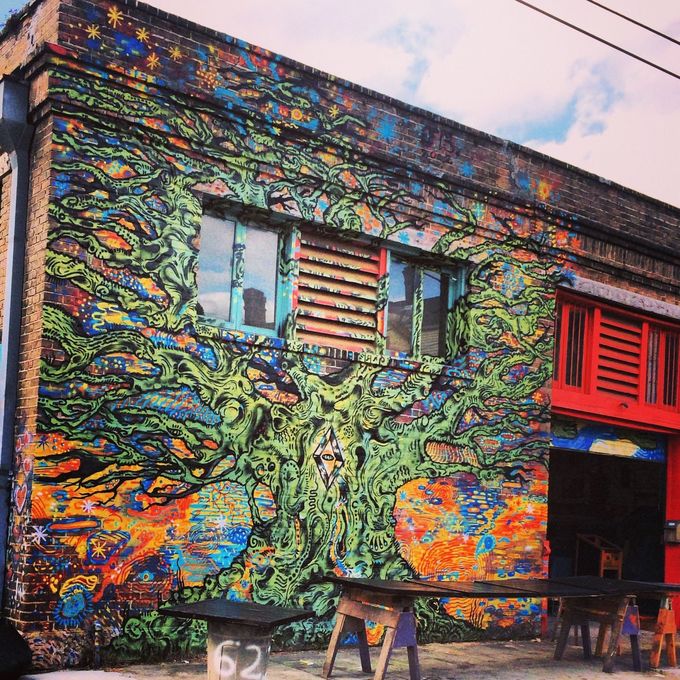 One of the greatest aspects of New Orleans culture is, arguably, its myriad representations, its ability to simultaneously occupy paradoxical spaces — the fact that its cuisine can manifest itself as a seven-course tasting menu at a white-clothed …
Made in Shoreditch – unique lifestyle magazine celebrating the iconic status of Shoreditch as Europe's centre of Innovation and Creativity.
– See it on Scoop.it