Busking Project to conduct study on busking laws –
Camden and New Orleans fighting narrow regulation schemes –
Other cities stay regulation friendly – Many Winston-Salem buskers say they want some regulations –
With all the fuss up over in the Camden district of London, and the trouble with narrow and debilitating  regulations being debated down in New Orleans, you would think the government busking laws are there to regulate all the freedom of expression and spontaneity out of street performances. Then you read something like this,  in Winston Salem North Carolina street performers want some busking laws.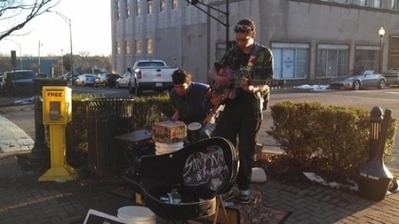 When Julian Robson wakes up in the morning, he drinks his coffee. He gets dressed, and he prepares for his work day. He works in downtown Winston-Salem, and he even has a "corner office." Like anyone else, Robson admits that some work days are…
His workdays are out at the corner busking and this performer thinks that without any regulations there is no way to tell on any given day whether a cop will come calling.
In Camden buskers want to sell CD's but in Pittsburgh the organizations there are OK with only passing the hat.
So when are busking laws and regulations on street performers too restrictive? What areas need to remain unregulated in order to foster new performance talent and provide a place for artists to hone their skills. Are there model cities we can look to where street performance laws enhance the urban environment?
The Busking Project launches study to help provide useful data
In order to  get this party started they have prepared a short survey questionnaire for buskers. "Dear busker,
We are conducting a large-scale study into the way street performance affects the way people experience city life, and the effect that local government policies have on encouraging/discouraging a good busking culture."
All the noise about noise
A lot of the complaining  and excuse for restrictive policies in Camden in London and Bourbon Street New Orleans is over noise. Both areas have seen newer noisier bars open up but the buskers were there first. There were not as many complaints before. But the bars pay taxes.
It will further the whole cause of optimum use of busking laws if a realistic( in terms of the public's satisfaction) criterion can be established regarding noise. Just as it is needlessly restrictive to enforce one noise level for every area of a city, it is also annoying to create more noise in an community known for quiet.
Hopefully the busking law survey will add perspective on this. Noise so far, ranks as the most divisive and often needlessly punitive of all the regulations. Busking Laws could use some sound analytical data worldwide