I think they ought to raise money from the poster, to bribe enough operatives working for the Chinese government entity, to spring him. And just in case you didn't get the whole Chinese government, one party control means repression thing, check this out.

this just means that whatever Chinese government entity is handiest will be used to stamp out unauthorized individual expression. This isn't even a  piece of activist art. This is just fun loveing stuff. Can you imagine what they would do if Invader was an activist.
Destruction of French street artist Invader's work has placed the spotlight on culture, free expression and public nuisance in Hong Kong, writes Richard Lord
Art today Mar 23, continues with activism in the west. In the UK, the government will strongly hint that you should not draw a gun as part of a grant sponsored installation. But if you paint green activist art on your own you get PR.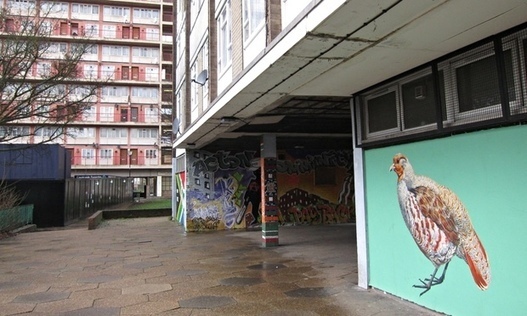 The snipe, barn owl and great bustard have appeared on walls around the capital.
Wow! How could we let the barn owl go extinct. Thanks ATM for the message. –
Last on this Art today Mar 23 report. Now that we are including more street art and graffiti inspired creation in our urban environment, should street artists plan more of our public space? Jordan Weber thinks so.
Jordan Weber doesn't call himself a street artist anymore. The term's overused. Overrated. Over-commodified, he says.